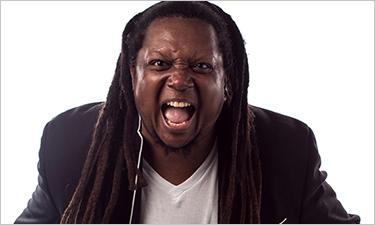 Confident. Exuberant. Raw. Innovative. These are just a few of the words industry insiders and fans have used to describe the talent behind one of America's favorite house DJs, Donald Glaude. From a career spanning over two decades, traveling and rocking dance floors all over the globe, Donald Glaude has cemented his reputation as a crowd-rocking favorite and one of the most in-demand artists in the United States. He is one of those rare DJs who perceives their role to be that of an all-around entertainer and performer. He exudes energy, dropping track after track, arms aloft, and has been known to join the dancers on the floor. It is the combination of these ingredients that have helped him create a unique connection with his audience.
Donald Glaude was a member of Funky Techno Tribe, one of the first DJ crews formed pertaining to house music. The group's members included DJ Dan, DJ Sneak, Bassment Jaxx, Mark Farina, Jeno, and Tony Hewitt. Eventually, this led him to join the legendary record label Moonshine Music. Releasing numerous live compilations for the label placed him among the DJ elite. Being ahead of his time, Donald is one of the first DJs to have a Las Vegas residency and a reality TV show called "The Club."
His production work has graced the Beatport & Billboard Charts on the Electro House and Nu Disco genre sections throughout recent years. Most notable was his and DJ Dan's "Stick Em," the remix of "Beats Inside My Head" he did with Revolvr, and "You Make Me Feel" by Robert Ortiz and Donald Glaude. His most recent releases, "Spread Love," "Like A Ho" with Tom Collins (Free Give away internet, which just got picked up), the remix of Docka featuring Snoop Dogg "Let Me Hit It" with Tom Collins, his most recent release a Tribute to Prince called "Cry Doves."
Between his history, new releases, a mix series titled "This Is Me," and his energetic live shows, his accomplishments have helped him keep his relevance and continue to work around the globe to this day. Now considered a DJ legend among his fans and DJ peers, he is constantly traveling the world performing at legendary clubs and music festivals like Insomniac's Electric Daisy Carnival, Beyond Wonderland, Coachella, and more.
Upcoming Events