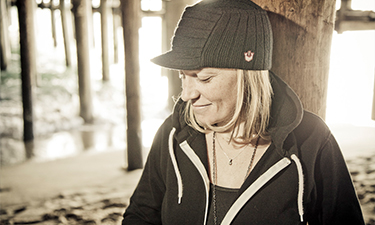 The spirit of trance and progressive in the United States has long been amplified and embodied by DJ/producer Kristina Sky. From the early days of the genres, she was first integral in bringing the music's top DJs to the West Coast masses, often for the first time, then ultimately stepping behind the booth herself in 2002. "KSky," as she's known to one of the most loyal and passionate fanbases in the biz, has been tapped to play all the top festivals around the world, from Armin van Buuren's A State of Trance, sharing the stage at Coachella with Daft Punk and Madonna, multiple sets at Electric Daisy Carnival, as well as consistent appearances at the trance-focused festival Dreamstate, and many more top one-off events. Kristina Sky has also held many coveted residencies including America's first weekly trance event at Arena called "Heaven," Spundae at Circus, Insomniac Events' "Awakening" at Exchange LA, as well as the mighty Avalon Hollywood since 2010. It was in these rooms she honed her distinct sound.
Kristina Sky is revered for her unique style of high energy, melodic trance combined with her signature blend of deep & progressive house. Hailed as "one of the best progressive DJs in America," by scene superstar John O'Callaghan, the top DJ/producers in the trance world are more than happy to sing her praises. "Kristina is living and breathing dance music," says Dash Berlin. "Having finally met her in person on the Groove Cruise a few years ago proved to me that besides having a big heart for electronic music, she is an amazing and caring human being as well," he says. "Kris has been there from the start, standing her ground firmly in a male-dominated industry, as where in the future she can be of great importance not only musically, but also on stage and in guiding new talent."
In addition to her prowess on the ones-and-twos, she carefully crafts remixes and original tracks that have found their way into the hearts of both fans and fellow DJs. Her first release in 2006, "EnMass – CQ [Seek You] (Randy Boyer & Kristina Sky Remix)" debuted on Armin van Buuren's "A State of Trance" imprint on his world-famous Armada label, plus received massive support from Paul van Dyk, Markus Schulz, Agnelli & Nelson, John O'Callaghan, Darude, and Sander Van Doorn. The track then held the Beatport number 1 spot for 13 consecutive weeks, followed by another 10 weeks in the Top 10. She then teamed up with Boyer again for their 2008 hit on Paul Van Dyk's "VANDIT" — "Kristina Sky & Randy Boyer – Set It Off". Other production accomplishments include Randy Boyer & Kristina Sky ft. Cari Golden "No Limit" on Ultra Records. She's also collaborated multiple times with Menno de Jong, such as on the Armada release "Signals." In 2018 she was tapped to mix "Pure Trance Volume 7" which also featured a debut collaboration with Balearic king Roger Shah, "Ocean Flame", and currently holds a spot on Solarstone's globally respected "Pure Trance" roster alongside Solarstone, Factor B, Activa, Gai Barone and more, regularly playing the Pure Trance brand nights in London, Miami, Amsterdam, Las Vegas and beyond.
One of the genre's original groundbreakers, Christopher Lawrence, has experienced many of KSky's sets as both a fan and on the same lineups. "Kristina Sky is one of the most successful and respected DJs to rise out of the massive Los Angeles club and festival scene," says Lawrence. "Having spent years in the trenches holding down residencies at multiple clubs and events including the world-famous Avalon in Hollywood, Kristina has earned her place in the international circuit. I have had the pleasure of playing alongside Kristina heaps of times over the years and have always been impressed with her performance and professionalism behind the decks," he says. "Kristina Sky is a truly gifted DJ able to read a crowd and deliver exactly what the dance floor needs."
Upcoming Events