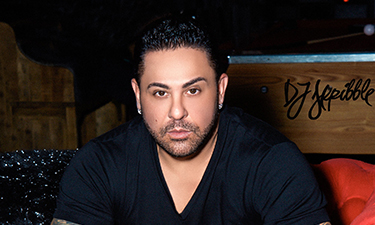 Looking through annuls of DJ History, one name will appear more than almost any other – Skribble.
Since 1980, DJ Skribble's larger-than-life personality has helped revolutionize the music industry, launching his own career and the careers of countless musicians around the world. DJ Skribble has been featured in numerous publications, including People, US Weekly and the New York Times, proving that DJs can be just as popular and socially relevant as the musicians they collaborate with. DJ Skribble represents everything the modern DJ can accomplish.
Nearly 30 years into the business, DJ Skribble continues to push himself and test new ground. He is constantly working with emerging artists, helping them discover their own unique presence and solidifying his role in the cultural spectrum. His touring schedule boasts collaborations with artists including P. Diddy, Taio Cruz, Ciara, Britney Spears, Dave Navarro, and Tommy Lee. His discography is likened to that of a phone book of the who's who in the music industry. His brilliance as an artist incorporates blending hip hop, house and rock-electro music into an unforgettable experience. His growth as a top-rated DJ has allowed him to mix an established repertoire, which according to DJ Skribble, has made his shows "both innovative and familiar."
Through the course of his work on television as well as his countless appearances in popular publications, DJ Skribble has emerged as a proven brand builder. Working with the likes of the NFL™, NBA™, Playboy™, Disney™, Sony™, Sheets Energy™, Dr. Pepper™, and Malibu Rum™. DJ Skribble has shown that his persona and talent is just as marketable as the products he promotes. Despite his accomplishments in the media, brand management, and beyond, DJ Skribble's true passion and success have always been rooted in his music. Being a veteran among prosperous newcomers, DJ Skribble is getting stronger every day. In the past two years, DJ Times magazine ranked DJ Skribble #3 on the list of the world's top DJs. He continues to produce Top 10 Billboard mix compilations and has begun collaborating with filmmakers to produce scores for film. His popularity and accomplishments as a multimedia personality have earned him residencies at major nightclubs across the country, filling his schedule with over 225 shows a year.
DJ Skribble is a musical pioneer whose relationship with his fans and corporate sponsors have allowed him to be one of the most recognizable and requested DJs in the world. After performing in all 50 states and in over 50 countries, DJ Skribble is an international presence whose long and prosperous career is far from over.